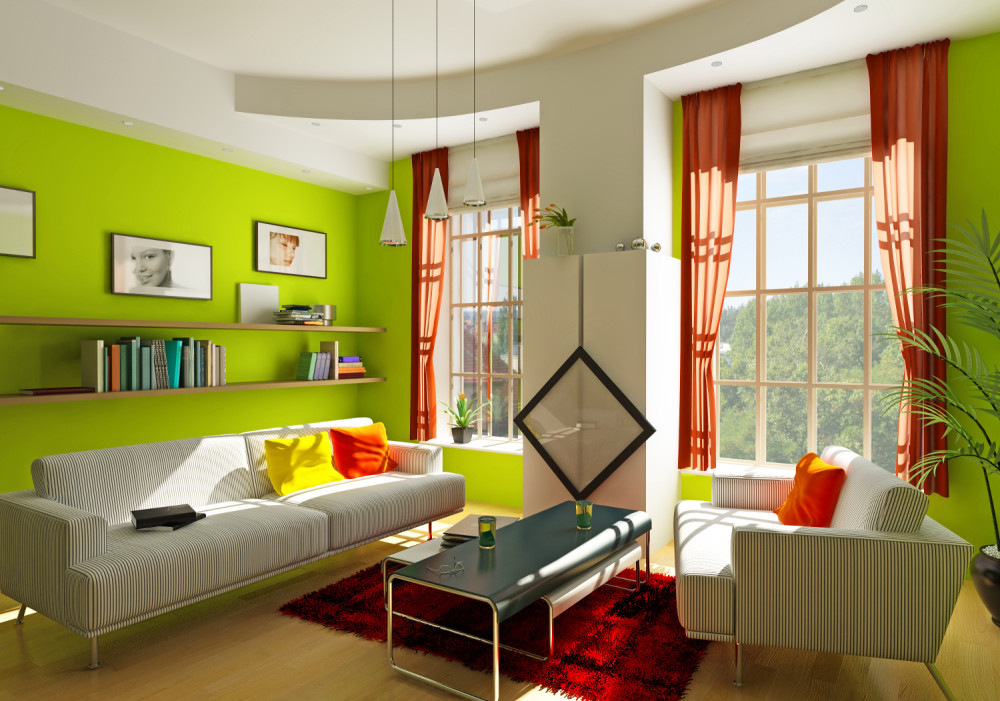 The most exciting part of the decorating process is imagining the various ways in which colours can interact in a specific room. Creating a personalized colour scheme means exploring a great number of possibilities. This can sometimes be overwhelming especially if you are prone to indecision. Yet, arriving at the perfect expression of your personality and the atmosphere you would like to create does not have to feel like a challenge.
Fall in love with the Concept of Colours
Being able to visualize colour is a wonderful ability that should never be taken for granted. Colour has the potential to change the ambiance of any environment and can impact the viewer both negatively and positively. Most people, if not all, have a particular colour prefence, which means we associate different feelings and have different responses to particular hues. With this in mind, it should then become clear just how important your colour scheme will be. The colours in a room can enhance or detract from its beauty. It is therefore imperative that you make the selection process e an enjoyable one by ensuring that you connect with the colours that you choose. Nothing in your palette should be offensive to your eyes or underwhelming unless it creates a pleasing effect when blended with other hues.
Be True to You
Your personal colour scheme is most importantly YOUR colour scheme and must reflect your own personal tastes. Do not get caught up in recent trends if the trends are not for you. Do not try to emulate a style simply because it is in fashion especially if it feels like an affront to your individual sensibilities. Fashionable trends last for only so long, but your personality and your preferences are less likely to be so flagrantly fickle.
Consider the Atmosphere of the Room
The next consideration should be the intended atmosphere you would like to create in the particular room. Do you want something that is lively or something that is laid back? Do you want a room that is attention grabbing or one that is muted? Do you use the room to unwind or simply to entertain? Think of the space and what it represents and what you would like it to exude. Once you have done that then the options become slightly more clear.
Consider the size and lighting in the room
When making your decision consider the lighting in the room and the size of the room. Smaller rooms can appear too confining if the paint colours are too dark. A dimly lit room will also appear smaller if the lighting is poor.
Don't forget the Wow Factor!!

The wow factor does not necessarily have to be a big bright wall of paint or something that runs counter to the ambiance you would like to create. It can be as simple as adding texture to a wall, creating a subtle yet effective colour transition or adding a few contrasting or complentary accent pieces to enhance the overall effect.
Make it Livable
You should be able to live in the newly painted room. You shouldn't be bored by it, overwhelmed by it, or be very little appreciative of it. Simply put – you should love it. It should be a space that makes you feel at home while expressing undeniable visual appeal.
Create combinations based on your existing décor
Narrow down your options by creating combinations based on the criteria already laid out. You could come up with as many as you like based on the colours of your preference. At this point you can then consider the other pieces of furniture in the room. If there are specific colours already in the décor you would like to enhance then make your choice based on these elements.
Choose the Winning Combination
Once you have narrowed down your selection, think carefully about how the colours make you feel. Ensure that the chosen combination does exactly what it is intended to do. To gain even greater insights into how the colours can impact your mood read more on colour psychology which delves further into the effects of colours. The decision will come readily to you once you have explored the options carefully.